OK,
>_>;; At the beginning of this blogging, I planned to write a lot of things. I have many topics already set up in my head. But that good point is actually the bad point as well ! O_O;;; Now I'm confused about what I should write first, gah D:<
Anyway, at last I decided to write about what novel I'm reading now !
It's called the Bartimeus Trilogy written by Jonathan Stroud which you can read the complete information about them in their Wiki.
As you can read the details in the Wiki, I won't talk much about ones. I guess I'll just give you the overall review about it since I'm not even finished reading it's first title "The Amulet of Samarkand" yet anyway hahaha XD;;
Here's the cover (taken from Wikipedia) , Voila !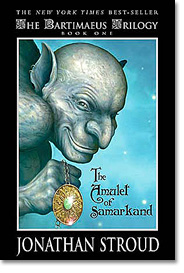 The first time I saw the cover, I thought "Wow, It looks like the cover of Eragon but replace the blue dragon with a blue djinni !" O_O;; Is it really good story?
But my colleague keep trying to convince me that it's pretty good. At least, comparing with Harry Potter which has the same stereotype of main character (a pity boy who's an orphan, in a really bad family, from zero to hero, etc) only that he's pretty much more wicked.
How wicked is it then??? Well, at such young age this Nathaniel guy (the main character's name) have a very complicated plan to deceive his master, his enemies and even his company, Bartimeus the Djinni.
Yeah ! He pets a djinni as his slave ! At about 12 y.o, hes' been being very wicked indeed ^^;;;
[to be continued]